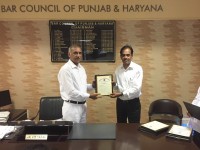 Contact Details
Law Firm Name : Rajendra Nath Dikshit
Practicing Since :
2017
Qualification :
Bsc.LLB
About
I am a retired Chief Manager from a PSU Bank, Headed various branches i.e. small to very large branches having a long experience of property matters, revenue, banking and finance,cheque bouncing and having practical experience of civil,criminal,divorce cases,
| Enrolment No | Enrolment State | Enrolment BAR |
| --- | --- | --- |
| P/1870/2017 | Haryana | Gurgaon |
Subject : HOW TO VACATE THE SHOP
Question : Dear Sir, A shop was allotted by Municipal Committee before 13-14 years on rental basis[ monthly rent about Rs.800/= per month]. Before 7-8 years, a known fellow of me asked me to use the shop for six months. As my shop was empty at that time i.e before 7-8 years. So, I gave my shop to him for six month to him on trust. After six month, when I asked him to vacate the shop then he started fighting with me. Thereon, he started depositing rent in the municipal committee directly & started collecting the rent slips from the Municipal Committee. THE IMPORTANT POINT IN THIS CASE TO NOTE IS THAT THE RENT SLIPS ISSUED TO THAT PERSON BY THE MUNICIPAL COMMIITTEE IS STILL IN MY NAME [ i.e that person is depositing the rent on monthly basis in my name ]. ALSO ONE IMPORTANT POINT TO NOTE IS THAT DURING LAST YEAR I PREPARED BANK DRAFT FOR RENT OF THREE MONTHS FROM MY ACCOUNT[ THROUGH MY BANK ACCOUNT CHEQUE] & SENT THE SAME TO THE MUNICIPAL COMMITTEE, WHO RECEIVED THE SAME & MADE ENTRY OF THREE MONTHS RENT FROM MY SIDE IN THEIR ACCOUNT. --- Also One more point to note is that before six month a legal counsel / advocate of mine sent a notice to that fellow mentioning in the legal notice that shop was given from my side on ' Trust ' for six months only & mine legal counsel addressed him to vacate the same. Sir, Reading the above situation, how to vacate the shop. Thanks, [ Shiv kumar] 20.01.2018
Answer by Rajendra Nath Dikshit : You may file a suit for eviction after serving legal notice to vacate the property.
Subject : Protection for the employees from management
Question : My manager tortures me interms of productivity and speaks very rudely and commanding for which I do not have a proof how can I be helped here
Answer by Rajendra Nath Dikshit : You may file a suit for mental harassment in a court of law.
Subject : RIGHT TO INFORMATION
Question : CAN PERSONAL INFORMATION OF A LEADER LIKE INCOME TAX RETURNS BE OBTAINED UNDER RIGHT TO INFORMATION?
Answer by Rajendra Nath Dikshit : No it can not obtained under RIGHT TO INFORMATION.
Subject : How to deal with case if wife filed case under section 341 against me
Question : How to deal with case if wife filed case under section 341 against me
Answer by Rajendra Nath Dikshit : It is very difficult to prove wrongful restraint in case of husband and wife without any evidence.
Subject : Civil
Question : Property sold to me by cheating and fraud?
Answer by Rajendra Nath Dikshit : You may file a criminal suit under IPC 420. Recovery suit for amount paid by you.
Subject : Things to see while executing leasse agreement
Question : Hi,,, we want to hire an office space for approximate 03 years period time,,, please guide about the documents/things/formalities to keep in mind while executing Lease Agreement
Answer by Rajendra Nath Dikshit : 1- Ensure ownership of lessor. 2-Lease should be exhaustive i.e. rent,electricity,water,payment of property tax,repairs,whitewash,annual enhancement of rent and renewal of lease after expiry of current lease if required. 3-Notice period for vacating the premises from either side.
Subject : Regarding changes in the division of residential land between owners.
Question : Dear sir/madam, Near about 800 sq. yards of residential site was purchased from a a person by three sisters 15 years ago and the person who sold the site registered the land portions separately in each one's name. However, we would like to re-allocate the land portions due to some issues. 1) What is the legal procedure to be followed to re-adjust the registered land portions? Should we re-register the land with the new amendments? Some people have suggested an amendment agreement. IS it correct? If it is, please elaborate. 2) Who is empowered to make such changes in the document? Is the mutual agreement of the three sisters (the current land owners) sufficient? Or should the previous owner (who sold us the land) do the registration once again? 3) If any of the current owners want to sell their land portion to any third party, will there be any legal repercussions? Please clarify. Thank you for your time.
Answer by Rajendra Nath Dikshit : You should file a declaration suit for the purpose.
Subject : How to represent father in court he is a paralysis patient now
Question : My father constructed a house in 1998. and left about 5 feet of place on the backside of my house due to vaastu. The person who is constructed house on our backside moved into our site. We make a petition in the court in the name of my father. but he attacked paralysis in 2015. He is unable to speak. I urged the court to allow me on behalf of my father. but they didn't allowed me. Is there any chance to attend the court on behalf of my father?
Answer by Rajendra Nath Dikshit : Get an power of attorney executed in your favour by your father, then you can fight the case on behalf of your father.
Subject : Cheque payment stopped by drawer
Question : Sir My cheque payment is stopped by drawer . this cheque is given as a proof of money that borrowing for some time but after a long my money don't returned .
Answer by Rajendra Nath Dikshit : Issue a notice to the drawer of the cheque to pay the amount within 15 days failing which you can file a case againt him under section 138 of N I Act.
Subject : A pending suit to decide weather person will be eligible for pension
Question : During the pendancy if a suit an SBI employee and after retirement in 2 years the employee died ( the suit is still continuing ) After some years the suit got decided and the allegations on the person was removed and the person was reinstated in service and was given a normal retirement. What are some of the case laws on this situation? And iss the employee still eligible for commutation of pension or not ?
Answer by Rajendra Nath Dikshit : Yes eligible
---