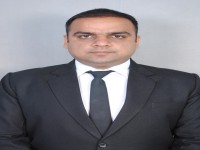 Contact Details
Law Firm Name : Pratik Duhan
Practicing Since :
2010
Qualification :
B.A.LL.B
About
| Enrolment No | Enrolment State | Enrolment BAR |
| --- | --- | --- |
| P/3124/2010 | Punjab & Haryana | Distt.Bar, Panipat |
Civil
Consumer,Product&Service Liability
Criminal Law
Family & Divorce
Motor Vehicles
Subject : Cheque payment stopped by drawer
Question : Sir My cheque payment is stopped by drawer . this cheque is given as a proof of money that borrowing for some time but after a long my money don't returned .
Answer by Pratik Duhan : This amounts to dishonour of cheque , you should approach a lawyer and serve a notice upon the drawer along with proof of you giving money to him.
Subject : How to represent father in court he is a paralysis patient now
Question : My father constructed a house in 1998. and left about 5 feet of place on the backside of my house due to vaastu. The person who is constructed house on our backside moved into our site. We make a petition in the court in the name of my father. but he attacked paralysis in 2015. He is unable to speak. I urged the court to allow me on behalf of my father. but they didn't allowed me. Is there any chance to attend the court on behalf of my father?
Answer by Pratik Duhan : The nature of your case is civil, and you can definately be a witness if your lawyer does not know then change your lawyer. bring the medical record also on court file.
Subject : Builder not giving bungalow and not responding also after payment was made in 2015.
Question : I had booked a bungalow in dharuheda (Gurgaon) in a project by Parshwanath developers.initial payment of almost 10 lac was made but after that there was no development in the property.I have written several mails etc to them but unfortunately they did not respond.Can you please suggest me the way out.
Answer by Pratik Duhan : The best option available to you is pursue the case by filing a compliant through RERA seeking possession or reimbursement along with interest , it is the best and expert to deal the matter. though the property rates might have scaled but it the best deal. suit for specific performance is no use to you as you will have to file the court fees on the amount / valuer of flat. and the time consumed will be around 2 + years . you may approach consumer forum but than power of distt forum is only 20 lacs see if that fits in for you .
Subject : Non compete Agreement
Question : My first employer has sued me and my last employer claiming the breach of non-competence, confidentiality and non-solicitation agreement. The court notice was not served to me, but from my last employer I came to know about the lawsuit. How should I proceed kn this situation.
Answer by Pratik Duhan : IN order to ascertain the situation the first and first thing to be looked into is the contract on which the suit is filed. , then the same has to be gone into details . if there is a way put work out else i suggest go for settlement if there is a violation on your part. since i do know have the copy of contract or copy of law suit in front, commenting anything on merit would be giving false assurance. these are things that require detailed study so better hire a lawyer who is expert on contracts or may be corporate law firm who is good at negotiations .
---